Pro AV Catalog
Manufacturers
PRODUCT CATEGORIES
Matching Keywords
Model Numbers
3100 N Detroit St
Warsaw, IN 46582
United States

Da-Lite
Da-Lite is the leading producer of high quality commercial and residential projection screens worldwide. With headquarters in Warsaw, Indiana and additional operations in the U.S. and Europe, Da-Lite manufactures projection screens and accessories for Fortune 500 companies, entertainment and major broadcast networks, education systems and governments around the globe.
Model: Parallax
Parallax Pure is an ambient light-rejecting technology that features a micro-layered optical lens system that rejects light.
Featured Product
Screen Designer is an online tool developed by Da-Lite to help you design, customize and draw the best projection screen for every installation. Updates to the tool launched in January.
In addition to a simplified interface, the tool now features expanded sizing options for select screens. Once your drawing is complete, easily share your design by e-mailing drawings and links directly from Screen Designer. Check out what's new!
Product category for IDEA screens (Interactive Dry Erase Application)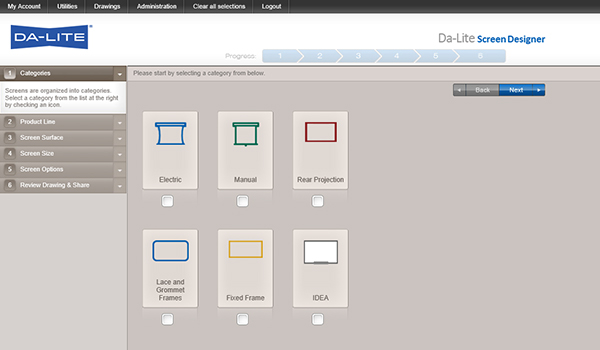 Parallax product line added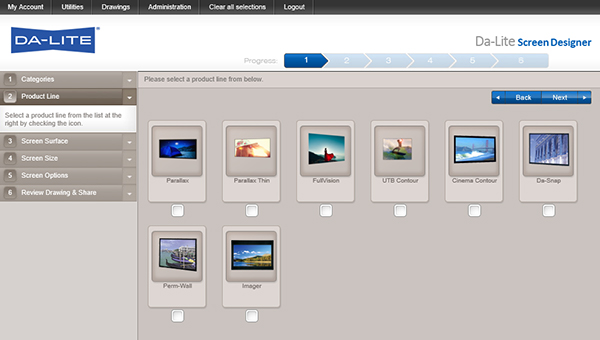 Ambient Light Rejection (ALR) surfaces (see complete list below), plus call-out box for surface description, gain, viewing angles and ALR%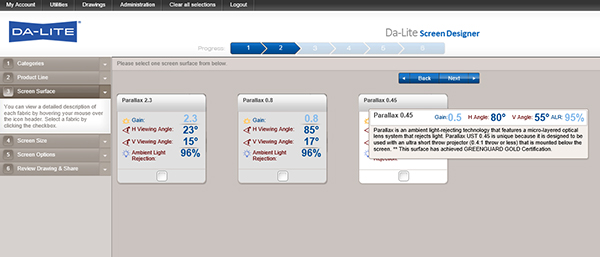 New options to review and share finished screen drawings via email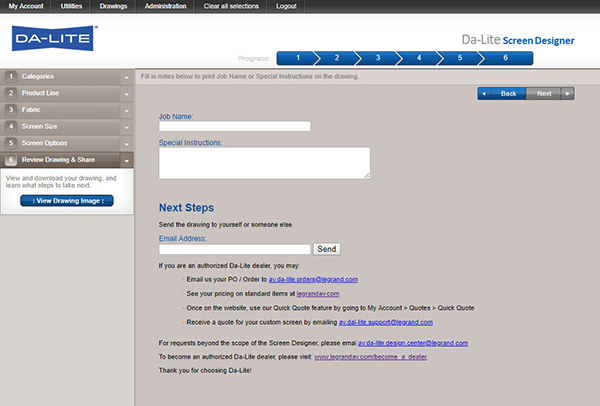 Screens Added to Screen Designer
Tensioned Conference
ViewShare Tensioned Advantage
Wireline Advantage
ViewShare Advantage
Flex Plex
FullVision
Parallax
Parallax Thin
UTB Contour
IDEA Screen
IDEA Panoramic
Surfaces Added to Screen Designer
HD Progressive 1.1 Perforated
HD Progressive 1.1 Contrast
HD Progressive 1.1 Contrast Perforated
Parallax 0.45
Parallax 0.8
Parallax 2.3
Find Screen Designer and other Legrand | AV Tools and Training at legrandav.com.
You must be logged in to add more than four items to your comparison list.
Register today!
With a free My-iQ account, you'll be able to keep track of the latest updates and event notifications from your favorite AV manufacturers, manage your own projects and discover new pro-AV products.
Thank you!
Someone will be in touch with you shortly.
Contact AHR Audio Visual, Inc.
AHR Audio Visual, Inc.
53 Stickle Ave
Suite 3
Rockaway, NJ 07866
USA
(973)586-4410
www.ahrav.com
Request more information from a dealer near you
Request more information from a dealer near you